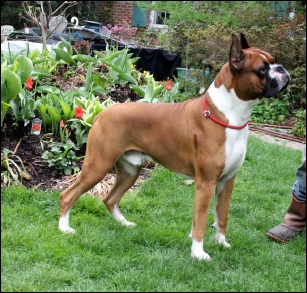 RECENT JACQUET BOXER HISTORY AND THE FUTURE

Although the Kennel at Jacquet Boxers (see below for the reasons) has been closed since 2010, I've worked closely with a number of other Boxer Breeders to carry on the Jacquet Boxer line. With my close cooperation and guidance, Jacquet Boxers are still being bred and the line is being carried on with my approval albeit not at the same level as it was previously. The Jacquet Boxer line took me more than 40 years to develop – it was my life's work after all- and I didn't want to see it disappear as many of the great kennels of the past have done. The Jacquet Boxers record is unsurpassed and probably will never will be beaten. The reason for this has to do with the soundness of the dogs, their fine temperament, intellegence, and excellent conformation. Anyone who has owned a Jacquet Boxer will tell you what a joy it's been and how their lives have been so enhanced by the ownership. I receive calls weekly from first, second, third and even fourth generation owners who own or have owned our boxers and are looking to own one again. It's for this reason that I want the line to continue and prosper and I know with my guidance and help this can be achieved.
Jacquet's Loseby.
Loseby lives with us in the house and and is our joy and comfort. He's smart, obedient, and loving. He loves to play, amuse us and welcomes all visitors with great enthusiasm. His favorite game is frisbee which we play whenever weather permits. We simply can't imagine living without a Boxer and he has all of the very best of the Jacquet Boxer traits.
Loseby came to us through the kindness of our friends Ned, Doreen and their daughter.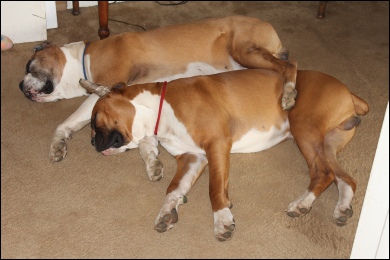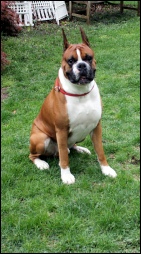 On the far right, Loseby as a puppy sleeping with his father Jacquet's Kepler. Kepler was 12 then and had been our house dig for all of those years. He taught Loseby everything he needed to know and that's how Loseby turned out to be such a wonderful dog!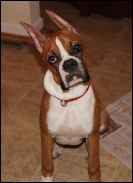 WHY DID WE CLOSE THE KENNEL?
It was I believe sometime in 2008 when a new house had been built behind our property and probably about 1000 feet from the kennel. It was an expensive affair for Oakland and the people moving into the house were not told the truth regarding the kennel (by the builder) and they almost immediately began complaining about the kennel although - according to the local Health Department and Police Department records (who responded to dozens of complaints) saw no reason for the complaints and took no action. Eventually, they sued us which unfortunately for them got nowhere. When we moved here 30 years ago, we were very careful to get proper permission and all of the necessary building permits from the town to build the kennel. For almost 30 years, the town issued kennel permits and we passed the state and local inspections never having a problem of any kind. Our old neighbors were terrific and never complained or were bothered in any way by our kennel even though they lived a bit closer. They always enjoyed coming to visit with thier kids to play with the dogs and were always very supportive. Eventually the these new neighbors adapted a different tactic. They sued the town asserting that the town never should have issued the building permit for the kennel in the first place 30 years ago. The town agreed to defend the lawsuit against them but in the end we decided that the best course of action would be that of a good neighbor and we made the very difficult decision to close the kennel after thirty years here in Oakland. The last dog we had in the kennel was Ch. Jacquet's Cubis and he now enjoys a wonderful life with our good friends and neighbor with two rescue dogs and a cat, only about half mile away. He visits us frequently and loves to play with Loseby